Hello, hello! I made some outfits on Modainside's mesh. Just to let you know before hand, there are some issues with clipping in the skirt when your sims sits in this outfit. Also,
title refrence
.
credits:
Modainside - mesh, shoe and belt textures
fanseelamb - shirt texture
io - skirt texture
Swatch and mesh are included in the download.
swatch
download - box
download - 4-shared
a preview
. They're meant to be worn with top only dresses or oversized tops. I was hoping to make some oversized tops to go with them, but I have yet to find a good mesh for it. Now on to the downloads!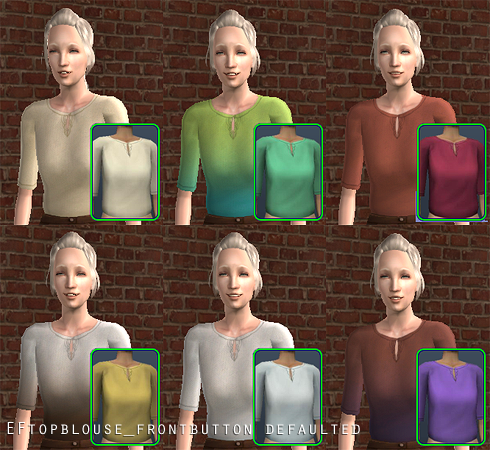 First, a default of a basegame top for elders. I changed the little trim detail since I felt like the original one looked kinda sloppy, gave a little bit of texture and gave it colors that I felt would suit my tastes better. Comes in default and custom.
Default:
4 Shared
Box
Custom:
4 Shared
Box
Lastly, I offer to you a default of a pair of pants for CF. I thought these pants were really cute, but didn't feel fond of the color/pattern choices nor the paw prints on the back pockets. Comes in default and custom. Requires Open for Business.
Default:
4 Shared
Box
Custom:
4 Shared
Box
Hello, hello! I come with more pretties for you! I've recently learned to default clothing, I'm working on trying to default with new meshes now. It's not much fun I must admit, but all the ugly outfits must be gone! I am also working on some leggings at the moment: